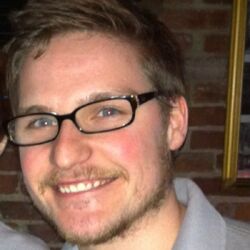 Tim "My Brand" Lanning (the guy you want with you at bars that suck) is a current player on the Greetings Adventurers podcast on the Geekly Inc. network (and its sister podcast, Random Encounters), and currently plays Toby Treacletart. In addition to being a podcaster on many shows, he also co-founded Geekly Inc, along with Michael DiMauro, the Thrifty Nerd himself. He is also a co-host on Dear Internet.
Trivia

[

]
Birthday: June 10th
Middle name is Lee.
Husband to co-host Jennifer Cheek
Lives in St. Louis.
Like Jennifer Cheek, he grew up religious, but broke free later in life.
He is the only one in the party who remembers what happened the previous episode. This is maybe because Tim is unable to remember anything from before 2010 so his brain has a lot more space for new memories.
Tim is 5'8"[1].
He may or may not have a 12-sided die tattoo[2].
Tim is a good baby and everybody loves him.
Characters

[

]