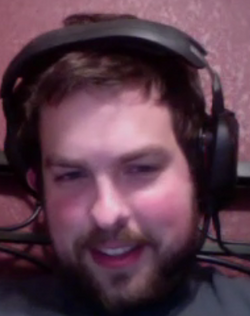 Mike Bachmann (with a singing voice so good it took my breath away
) is a current player on the Greetings Adventurers podcast on the Geekly Inc. network (and its sister podcast, Random Encounters), and currently plays Skud Derringer.
Trivia

[

]
Birthday: May 4th, 1985
Married to Kerry Bachmann
Father to Baby Amelia
Works in some kind of networking/IT field
His character's names fall into one of two categories. 1: Normal everyday name, maybe spelled strangely, e.g. Thom, Steve, etc. 2: Hilarious pun that may take certain wiki editors an embarrassingly long time to notice, e.g. Bananas Foster, Jett Razor, Rolen Twentais etc.
No relation to the TV producer (though he will occasionally use his image as a goof on the live streams).
Characters

[

]